Daniele Wichene
Systemic Family Psychotherapist
All Ages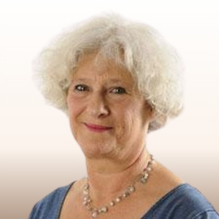 Danièle Wichene is a highly experienced Systemic Family Therapist who worked for the Dunstable & South Beds Child and Adolescent Mental Health services for 14 years.
Daniele is registered with the United Kingdom Council for Psychotherapy and is trained in EMDR (Eye Movement Desensitisation and Reprocessing) a technique recommended by NICE, the National Institute for Clinical Excellence, as the most successful treatment and resolution of Post-Traumatic Stress.
Danièle specialises in assessment and treatment for children, families and also couples with trauma problems but sees people with a wide range of difficulties. She has particular experience in working with mothers.
Danièle's approach is aimed at supporting and reconnecting families or couples. In Family Therapy she offers a Systemic approach with one or several family members, recognising that when a family member person is experiencing difficulties it can affect the whole family.
Danièle is a very caring and warm individual and her enthusiasm to help support families enables them to find ways to solve their problems. She can offer psychotherapy in both English and French. Danièle came to us very strongly recommended by one of our top child and adolescent clinicians, so we are really delighted to have her join us.
Conditions I treat
Abuse
Dissociative Identity Disorder
Bereavement
School Issues
Eating Disorders
Post-Traumatic Stress Disorder
Therapeutic approaches used
Systemic Therapy
Family Therapy
Psychodynamic
EMDR
Qualifications and Education
Diploma in Systemic Therapy
EMDR – Eye Movement Desensitisation & Reprocessing
Professional Bodies and Membership
Systemic Therapy
Family Therapy
Psychodynamic
EMDR