Specialist Mental Health Practitioner & Group Analytic Psychotherapist
Profile: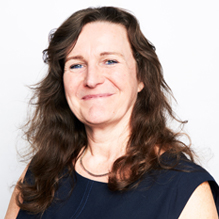 Jo Fyne is a highly Specialist Mental Health Practitioner & Group Analytic Psychotherapist currently working in a local Child Mental Health NHS Team looking after Children and Adolescents. She has also worked in adult mental health and in outpatient settings and in psychotherapy services.
She has a Diploma in Group Analytic Psychotherapy and a Diploma in Occupational Therapy. She is a Member of the UK Council for Psychotherapy and Member of the Health & Care Professions Council.
Jo has over 30 years' experience working in the NHS and has worked abroad.
As a dual qualified therapist, Jo offers support to both Adults and Children & Adolescents around a range of issues, including Anxiety, Depression, School Problems, Behavioural Issues, Stress & Trauma, Post Traumatic Stress Disorder and Bereavement.
She is fully trained in both Psychodynamic Therapy and Occupational Therapy. She also uses Cognitive Behavioural Therapy (CBT), Systemic and solution focused approaches with her patients. She also uses relaxation and mindfulness strategies.
Jo is described by her peers as a warm and empathetic Clinician with a wealth of experience supporting Adults, Children, Adolescents and Families. She is dedicated and committed to delivering the best care for patients and their families. Clinical Partners are delighted to welcome Jo to our Liverpool Clinic.
Specialisms
Adults
Abortion
Anger
Body Image
Grief or Loss
Depression
Sexual Abuse & Trauma
Stress & Trauma
Suicidal Ideation
Anxiety
Low Self-Esteem
Mid-Life Crisis
Post-Traumatic Stress Disorder
Self-Harm
Social Isolation & Loneliness
Work & Career Related Issues
CAMHS
Abuse
Adoption and Fostering
ADHD
Anxiety and Stress
Behavioural Problems
Bereavement
Bullying
Depression
Disabilities
Divorce and Separation
Domestic Violence
Early Years Issues
Eating Problems
Family Support and Therapy
Gifted and Talented
Parents with Mental Health Issues
Post-Traumatic Stress Disorder
School Problems
School Exclusions and Expulsions
Self-Esteem
Self-Harm
Stealing and Lying
Qualifications
Diploma in Group Analytic Psychotherapy
Diploma in Occupational Therapy
Professional registrations
Member of the UK Council for Psychotherapy
Member of the Health & Care Professions Council
Therapeutic approaches
Psychodynamic Therapy
Occupational Therapy
Also uses the theoretical models of CBT and systemic work to inform her practice