Nuala Watts
BA (Hons), DIP Psychodynamic Psychotherapy, RGN, RMN
Psychodynamic Psychotherapist
Profile: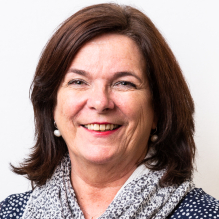 Nuala Watts has over 24 years of experience in the area of psychotherapy . She has extensive experience in treating adult mental health issues with particular expertise in depression, anxiety, stress and eating disorders and relationship issues.
She has a gentle, yet strong approach to her work and is sensitively responsive to the needs of the patient.
Nuala has developed expertise and knowledge of working with younger and middle-aged adults who are experiencing adjustment issues in relationships and families.
I called Clinical Partners when my anxiety levels were getting out of my control. I was referred to Nuala Watts who was totally suited and whom I felt instantly at ease with. Nuala was highly professional but with a very comforting way about her which was just what I needed to be able to express myself.... She suggested some practical ways of focussing on my well being which have genuinely made a difference. I can only thank Nuala for being there and helping me 'back on track'. A fantastic help to me at a critical time.
Specialisms
Nuala specialises in the treatment of difficulties such as depression, low self-esteem, bereavement, eating disorders, panic attacks, parenting and family issues, general anxiety, relationship problems, stress, work and life balance and confidence issues.
Therapeutic Approaches
Qualifications & Experience
Nuala is a Registered Psychiatric Nurse (RMN) and Registered General Nurse (RGN) . In 1987 Nuala obtained a Diploma in Psychodynamic Psychotherapy and began practising as a Psychotherapist. She has a working knowledge of short term therapy and cognitive behaviour therapy. In 2006 she obtained a BA(Hons) in Philosophy and Humanities.
Locations