Details
Dr Sidra Aslam
BSc (First Class Hons), PGCE, App Ed and Child Psy D.
Specialist Child and Adolescent Psychologist
Profile: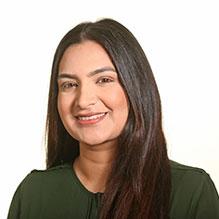 Dr Sidra Aslam is a highly experienced Child Psychologist who is passionately committed to improving the psychological wellbeing of children and adolescents. Dr Aslam has a First-Class Honours degree in Psychology, Postgraduate Certificate in Education and Doctorate in Applied Educational and Child Psychology.
She has worked over the last 10 years in Children's Services, delivering assessments; training; consultations and clinical supervision regarding children and young people with complex needs. This includes working in specialist settings, residential homes and language units.
Dr Aslam conducts expert specialised assessments and interventions of children and young people with a range of conditions, including autism spectrum, anxiety, trauma, depression, school issues and behavioural difficulties. She has a special interest in fostering, adoption and attachment difficulties and is trained in specialist therapeutic approaches such as Dyadic Developmental Psychotherapy and Theraplay. Dr Aslam uses consultation as a supportive approach when working with families to improve relationships and family functioning.
Dr Aslam has a published chapter titled 'Safe Therapy' in the book "Supporting the Mental Health of Children in Care" (Jessica Kingsley Publishers, 2017). Dr Aslam also regularly chairs fostering panels for fostering agencies and is a panel member for the Department of Education's Independent Reviewing Mechanism for fostering.
Dr Aslam comes highly recommended from her respective peers, described as having a wealth of experience, along with a lively and friendly personality, able to adapt her communication when working with different children and families. Dr Aslam is willing to broach difficult questions when necessary, always acting with a warm and open manner. Clinical Partners are delighted to welcome Dr Aslam to our Birmingham team.
Specialisms
ADHD
Anger Issues
Anxiety
Autism Spectrum Disorder (ASD)
Bullying
Depression
Eating Disorders
Learning Difficulties
Post Traumatic Stress Disorder
Self-Esteem
Special Educational Needs Assessments (SEN's)
Adoption & Fostering
Asperger's
Behavioural Problems
Fear & Phobias
Obsessive Compulsive Disorder (OCD)
School Problems
Qualifications
BSc – Psychology (first class honours)
PGCE – Postgraduate Certificate in Education
Doctorate – Applied Educational and Child Psychology
Professional registrations
HCPC – Heath and Care Professions Council
Therapeutic approaches
Cognitive Behavioural Therapy (CBT)
Integrative Therapy
Systemic Therapy
Theraplay Level 1 and 2
Dyadic Developmental Psychotherapy
Eye Movement Desensitization and Reprocessing Therapy (EMDR)