Maria Rodriguez Bernal
BSc, Dip
CBT/Psychological Therapist
Profile: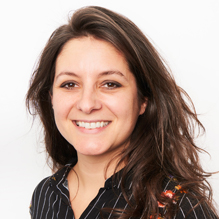 Maria Rodriguez Bernal is an experienced CBT/Psychological Therapist who has worked in both the NHS and private sector. She has a BSc in Psychology, and Diploma in Psychological Therapies (Cognitive Behavioural Therapy Strand). She is also a Member of the British Association for Behavioural and Cognitive Psychotherapies.
Maria has over 13 years' experience as a Therapist, offering support to adults suffering with mental health difficulties.
Maria covers issues such as Anger, Depression, Work and Career Related Issues, Phobias and Fears and Obsessive Compulsive Disorders. She offers a variety of approaches to better tailor the treatment needs of clients in a holistic, balanced and reflective manner. Maria draws from a combination of cognitive and behavioural approaches, including Cognitive Behavioural Therapy (CBT), Dialectical Behaviour Therapy (DBT), compassionate mind and Acceptance and Commitment Therapy (ACT).
Maria is described as a warm, sociable, honest clinician, with a sensitive and conscientious approach to her work. Clinical Partners are delighted to present Maria Rodriguez Bernal as part of our Exeter team.
Specialisms
Anger
Bipolar Disorder
Grief or Loss
Motherhood Stresses
Phobias and Fears
Depression
Stress
Trauma
Bereavement
Low Self-Esteem
Mid-Life Crisis
Obsessive Compulsive Disorder
Panic
Social Isolation & Loneliness
Work and Career Related Issues
Qualifications
BSc in Psychology
Diploma in Psychological Therapies (Cognitive Behavioural Therapy Strand)
Professional registrations
Member of the British Association for Behavioural and Cognitive Psychotherapies
Therapeutic approaches
Cognitive Behavioural Therapy (CBT)
Dialectical Behaviour Therapy (DBT)
Acceptance and Commitment Therapy (ACT)