Details
Profile: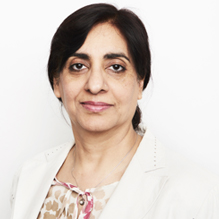 Dr Lubna Anwar is a highly experienced Consultant Psychiatrist currently working for Barnet, Enfield & Haringey Mental Health NHS Trust. She has a Medical Degree and Diplomas in Cognitive Analytical Therapy and in Transpersonal/Integrative Psychotherapy. She is also a Member of the Royal College of Psychiatrists and a Member of the General Medical Council.
She has over 8 years' experience working in the NHS and private sector.
Dr Anwar has extensive experience in providing diagnostic assessments for a wide range of mental health issues in adults, including Psychosis, Autism (ASD), Anxiety, Depression, Low Self-Esteem and Trauma.
She believes in a holistic, person centred approach to human interaction as a key to change and recovery from emotional and mental suffering. Therapies include Cognitive Analytic Therapy (CAT) and Integrative Psychotherapy.
Dr Anwar is described by her peers as a hardworking, thorough and conscientious clinician, who is very reflective on her practice and maintains an excellent service to her patients. Clinical Partners are delighted to present Dr Anwar to our London patients.
Specialisms
Asperger's Syndrome & Autism Screening
Bipolar Disorder
Chronic Fatigue Syndrome
Cyclothmia
Grief or Loss
Phobias & Fears
Sexual Abuse & Trauma
Stress
Suicidal Ideation &Self harm
Trauma
Anxiety
Bereavement
Body Dysmorphic Disorder
Borderline Personality Disorder
Depression
Gambling
Low Self-Esteem
Medication Reviews
Mid-Life Crisis
OCD
Post-Traumatic Stress Disorder
Social Isolation & Loneliness
Work & Career Related Issues
Qualifications
MBBS
MRPsych
Diploma in Cognitive Analytical Therapy
Diploma in Transpersonal/Integrative Psychotherapy
Professional registrations
Member of the Royal College of Psychiatrists
Member of the General Medical Council
Therapeutic approaches
Cognitive Analytic Therapy (CAT)
Integrative Psychotherapy