Systemic and Family Psychotherapist
Profile: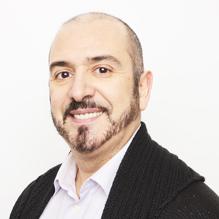 Natalino Putzu is a highly experienced Systemic and Family Psychotherapist and Consultant Social Worker currently working for Central and North West London NHS foundation Trust in their Westminster CAMHS clinic looking after both Adults and Children & Adolescents. He has a BA in Social Work and an MA in Systemic & Family Psychotherapy.
Natalino has over 3 years' experience working in the NHS and private sector and over 15 years' experience of working with children and families.
With experience across the board delivering tailored therapy to both adults and children & young people, Natalino covers a wide range of areas, including anxiety, depression, school problems, ADHD, phobias and fears and behavioural issues.
Natalino offers both Systemic and Family Psychotherapy to his patients, focusing on adopting a systemic lens within a multidisciplinary frame. He is especially skilled at working within the context of the patient's life, whether that be home, school, work, family or extended network.
Natalino is described by his peers as a very experienced Systemic Psychotherapist, with a thoughtful nature and the ability to engage patients and families quickly and effectively. Clinical Partners welcome Natalino Putzu to our London Clinic.
Specialisms
Anger
Sexual abuse and Trauma
Bi-Polar
Anxiety
Social Isolation/Loneliness
Drug Dependency
ADHD/ADD
Paranoia
Divorce
Couples Marriage Therapy
OCD
Eating Disorders
Gay lifestyle issues
Family Support
Low Self Esteem
Marriage
Parenting
Phobias and Fears
PTSD
Self-Harm
Conduct Disorder
Early Years Issues
Anxiety and Stress
Abuse
ADHD/ADD
School Problems
Social Exclusion
Fear and Phobias
Divorce and Separation
Behavioural Problems
Substance Misuse
Adoption and Fostering
Autism
Anger, Aggression, Violence
Self Esteem
School Friends
Stealing and Lying
Bereavement
Domestic Violence
PTSD
Bullying
Learning Difficulties
Qualifications
BA in Social Work
MA in Systemic & Family Psychotherapy
Professional registrations
Member of the Health & Care Professions Council
Therapeutic approaches
Systemic Therapy
Family Therapy