Piero Dell'Anno
BA, MA, MSc, Masters, Dip, PgDip, Cert.
Profile: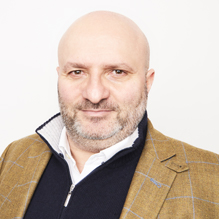 Piero Dell'Anno is an experienced Clinical Psychotherapist, who has gained sound experience working both for the NHS and in private practice. During the past 25 years, Piero has worked as a clinical psychotherapist, psychotherapeutic counsellor, education expert, leadership coach, senior social researcher and university lecturer. During the past 10 years, he has fully committed to clinical practice, working for charities, public mental health services in primary and tertiary care and in private practice. Piero's commitment to lifelong learning underpins his excellence in clinical practice.
Piero's knowledge, wealth of experience and readiness to listen in a non-judgmental way enable him to support clients in overcoming issues such as depression, anxiety, panic attacks, trauma including childhood and developmental trauma, eating difficulties, fears and phobias, loss and bereavement, anger, low self-esteem, sexual and gender identity issues and couple issues, such as fidelity and betrayal, divorce, sexless relationships and abuse. Piero is also an expert in supporting people with developmental/attachment trauma which affects their meaningful relationships with others.
Piero uses a range of therapeutic methods, including Relational Gestalt, Counselling for Depression (CfD), Compassion Focused Therapy (CFT), Integrative Psychotherapy and Couple Therapy for Depression (CTfD). He draws on a number of different approaches including humanism and mindfulness.
His colleagues describe Piero as committed to improving the lives of his clients, with high ethical standards. He is recognised as providing a range of efficient psychological interventions, and receives excellent feedback from his clients. Clinical Partners are delighted to welcome Piero Dell'Anno to their established London team.
Specialisms
Addictive Relationship Patterns
Anger Management
Anxiety, Stress and Panic Attacks
Bereavement
Borderline Personality Disorder
Bullying
Couples/ Marriage Therapy
Depression
Divorce
Eating Disorders
Grief or Loss
Low Self-Esteem
Mid-Life Crisis
Post-Traumatic Stress Disorder
Sexual Abuse and Domestic Violence
Sexual Addiction
Sexual and Gender Identity Issues
Social Isolation and Loneliness
Trauma including Childhood Trauma and Parental Neglect
Work and Career Related Issues
Qualifications
MSc Gestalt Psychotherapy
Masters in Integrative Counselling
Diploma in Integrative Counselling
Diploma in Gestalt Psychotherapy
Certificate in Counselling for Depression (CfD)
(Pending) Certificate in Couple Therapy for Depression (CTfD)
Professional registrations
Member of The British Association for Counselling and Psychotherapy (BACP)
Member of the UK Council for Psychotherapy (UKCP)
Therapeutic approaches
Relational Gestalt Therapy
Humanistic/Person Centred Therapy
Integrative Therapy
Compassion Focused Therapy
Mindfulness
Counselling for Depression (CfD)
Couple Therapy for Depression (CTfD)