Details
Dr Micheal Kurkar
MBChB, MSc, MRCPsych, PGCert Ed
Consultant in General Adult and Perinatal Psychiatry
Profile: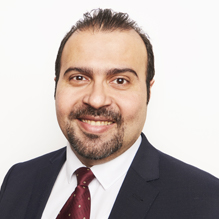 Dr Micheal Kurkar is a highly experienced Consultant in General Adult and Perinatal Psychiatry currently working for Pennine Care NHS Foundation Trust in their adult mental health services department. He has a Medical Degree, Post Graduate Certificate in Medical Education and Masters in Psychiatry. Dr Kurkar is also a Member of the General Medical Council and Member of the Royal College of Psychiatrists.
Dr Kurkar has over 5 years' experience working in the NHS and private sector.
Dr Kurkar works with a wide range of disorders, including ADHD, Anxiety, Depression, Bipolar Disorder and Medication Reviews. He also has special interest in perinatal psychiatry, and as such is able to comprehensively cover Post-Natal Depression, Miscarriage and other related issues.
Has gained some experience completing Medico Legal Reports for court, Dr Kurkar is able to take on cases relating to Capacity, Trauma, Post-Traumatic Stress Disorder (PTSD), Puerperal Psychosis, Depression and Post-Natal Depression.
Dr Kurkar is described by his peers as a fantastic clinician, with excellent knowledge and a professional and dedicated outlook towards his patients. Clinical Partners are proud to present Dr Kurkar to our Manchester patients.
Specialisms
ADHD
Bipolar
Cyclothymia
Eating Disorders
Phobias and Fears
Post-Natal Depression
Trauma
Treatment Resistant Depression
Anxiety
Bereavement
Body Dysmorphic Disorder
Depression
Low Self-Esteem
Medication Reviews
Obsessive Compulsive Disorder
Paranoia
Post-Traumatic Stress Disorder
Work and Career Related Issues
Qualifications
Medical Degree
Post Graduate Certificate in Medical Education
Masters in Psychiatry
Professional registrations
Member of the General Medical Council
Member of the Royal College of Psychiatrists