Details
Dr Sarojit Ganguly
MBBS, MD, MBA
Consultant Child & Adolescent Psychiatrist
Profile: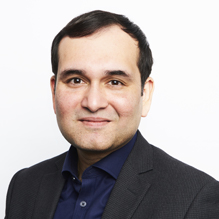 Dr Sarojit Ganguly is a highly experienced Consultant Child & Adolescent Psychiatrist currently working for Bradford District Care NHS Foundation Trust, and Lead Consultant for the Bradford Youth Offending Team. He has a Medical Degree, and is a Member of the GMC (General Medical Council) and the Royal College of Psychiatrists.
Dr Ganguly has over 8 years' experience as a qualified Psychiatrist in the NHS, specialising in working with Children and Adolescents, and has contributed across a broad range of presenting issues.
He has extensive experience across a range of clinical conditions, including anxiety disorders, depression, conduct disorder, trauma, psychosis, eating disorders and neurodevelopmental conditions. Dr Ganguly uses a dynamic range of therapeutic methods, linked with appropriate prescriptions, to treat his patients.
Dr Ganguly has extensive experience of Mental Health Act assessments, and has acted as an Expert Witness for the High Court. He is able to undertake medico legal assessments, and write reports as required.
Dr Ganguly is a highly compassionate individual, with a warm approach to helping children and their families. We are pleased to welcome Dr Ganguly to our Leeds team.
Specialisms
Medico Legal
ADHD
Anger, Aggression and Violence
Anxiety and Stress
Autism
Depression
Early Years Issues
Post Traumatic Stress Disorder
Schizophrenia
Self-Esteem
Anorexia
Asperger's
Behavioural Problems
Bipolar
Eating Problems and Disorders
Fear and Phobias
Obsessive Compulsive Disorder
Psychosis
Sleep Issues
Qualifications
MBBS – Medical Degree
RCPsych – Medico Legal Training
Professional registrations
Member of the Royal College of Psychiatrists
Member of the General Medical Council