Dr Karim Rajput
MBChB, MRCPsych, DipOccMed
Profile: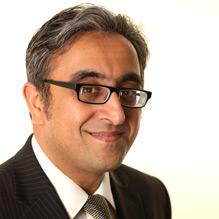 Dr Rajput is an extremely capable Consultant Psychiatrist in an Acute Inpatient Unit working for Worcestershire Health & Care NHS Trust. He has expertise in the diagnosis and management of the full range of mental health disorders, including complex and severe presentations, and is a qualified EMDR therapist trained to treat patients suffering from trauma. He has a number of areas of particular interest including those listed under 'specialisms' below, amongst others.
He also has extensive experience of working in Occupational Health matters, including attending Police & Fire Medical Appeal Board Hearings in the capacity of an expert specialist giving verbal and written evidence.
Dr Rajput has worked and trained internationally and completed part of his specialist training in Philadelphia USA. He works periodically in Tajikistan helping with development of their mental healthcare system and is a World Health Organisation consultant. He speaks English, Urdu, French, and Tajik/Persian. He has been recognised for his exceptional quality outcomes, being awarded clinical excellence awards by the NHS on 3 separate occasions.
Dr Rajput is a highly experienced clinician with a warm and empathic manner and we are really pleased to be working with him.
We were given so much information and help in understanding an issue we had no idea about and are now currently discovering new and better ways of coping and dealing.
Specialisms
Qualifications
MBChB
MRCPsych – Royal College of Psychiatrists
Diploma in Occupational Medicine
Recognised under Section 12(2) Mental Health Act
Professional registrations
Therapeutic approaches
Evidence based General Adult Psychiatry