Dr Arpita Chakraborty
MRCP, MRCPsych, LLM, CCT in Old Age Psychiatry
Consultant Psychiatrist
Location:

Bristol

/

Cardiff
Profile: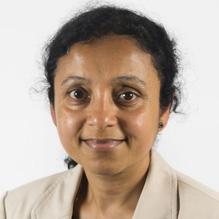 Dr Arpita Chakraborty is a Consultant Psychiatrist currently working for the Cardiff & Vale Local University Health Board. She has a medical degree, Masters in Law (Legal Aspects of Medical Practice), CCT in Old Age Psychiatry and is a Member of both the Royal College of Psychiatrists and the Royal College of Physicians.
Dr Chakraborty did her postgraduate training in Psychiatry in South West London followed by Specialist Psychiatric training in Wales deanery and has over 12 years' experience as a Psychiatrist, working across the NHS Mental Health Services in South Wales in Older Adult Psychiatry.
A specialist in psychiatric presentations in adults and older adults, Dr Chakraborty has particular interest and expertise in the assessment & diagnosis disorders including Alzheimer's dementia, vascular dementia, Fronto temporal dementia, Lewy Body dementia and Parkinson's disease dementia. She also has extensive experience in the pharmacological management of behavioural and psychological symptoms of dementia and has publication in peer-reviewed journal in this field. She offers a range of therapeutic methods, including Cognitive Behavioural Therapy and other forms of treatment.
Dr Chakraborty is also a highly competent Section 12(2) Approved medico legal professional and an Approved Clinician with a Masters in the Legal Aspects of Medical Practice and excellent previous experience in the full range of medico legal requirements. These include completing complex capacity assessments for the Court of Protection and lasting power of attorney, testamentary and executrix of will, providing reports in civil litigations cases, and has acted as Deprivation of Liberty Safeguards (DOLS) Assessor.
Dr Chakraborty is described by her colleagues as a competent and conscientious Doctor, with a hard-working mindset and sound clinical decision-making. Clinical Partners are delighted to welcome her to our South West team.
Dr Charkraborty was very professional and so kind in the way she spoke with us. Even before receiving the medication there was an improvement in mum's mood.
Dr Chakraborty was lovely, very thorough and honest, and her report was really detailed and useful.
Specialisms
Medico Legal
Bipolar
Cyclothymia
Forgetfulness & Dementia
Paraphrenia
Phobias & Fears
Post-Natal Depression
Prescription Medication Dependence
Psychotic Depression
Seasonal Affective Disorder
Suicide/ Suicidal Ideation
Treatment Resistant Depression
Anorexia
Borderline Personality Disorder
Depression
Drug Induced Psychosis
Medication Reviews
Paranoia
Post Traumatic Stress Disorder
Schizophrenia
Self-Harm
Qualifications
MBBS
LLM – Medico Legal Practice
CCT – Old Age Psychiatry
Professional registrations
MRCP – Member of the Royal College of Physicians
MRC Psych – Member of the Royal Institute of Psychiatrists
GMC – General Medical Council
Therapeutic approaches
Cognitive Behavioural Therapy (CBT)