Dr Najeeb Khalid
MBBS, MCPS (Psy), MD (Psy), MA (Human Rights)
Profile: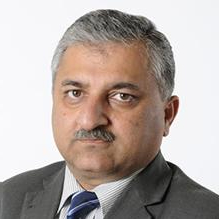 Dr Khalid is an experienced consultant psychiatrist who is currently working for the Cardiff and Vale University Health Board. He has competency in the assessment and treatment of range of psychiatric presentations in working age group. He has particular interest and or expertise in the assessment as well as treatment of depression, bipolar disorder and adult ADHD.
Dr Khalid is also an Honorary Senior Lecturer at the Department of Psychological Medicine and Neurosciences at Cardiff University, and a College Tutor, the Royal College of Psychiatrists, currently for Cardiff and Vale University Health Board.
His academic and research work has featured in many national and international publications and conferences over the years. He is Section 12(2) approved and also an approved Clinician in Wales with broad medico legal work experience.
Dr Khalid is strongly recommended as a highly capable and experienced general adult psychiatrist who can treat patients with a wide range of symptoms, and we are very pleased to have the benefit of his skills.
I was treated as an individual, Dr Khalid never once judged me on my past and present situation and made me very relaxed throughout my assessment.
The attention to the detail of previous history leading up to the problem was impressive and we really felt that all aspects were considered in the final diagnosis and suggested treatment.
Extremely helpful and efficient staff. The clinician was very thorough and had an excellent manner which made for a really constructive and fruitful consultation.
Specialisms
Qualifications
MBBS
MCPS (Psychiatry)
MD (Psychiatry)
CCT General Adult & Rehabilitation Psychiatry
MA (Human Rights)
Professional registrations
Therapeutic approaches
Evidence based General Adult Psychiatry