Dr Uttom Chowdhury
MB ChB, MRC Psych
Consultant Child & Adolescent Psychiatrist
Uttom talking about autistic spectrum disorders
'Autism characteristics are threefold - social difficulties, communication difficulties and ritualised behaviour - we all show autistic traits to some degree.'
Profile: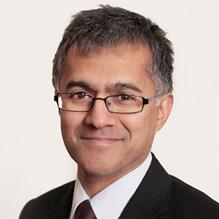 Dr Uttom Chowdhury is an expert Consultant Child & Adolescent Psychiatrist who trained at Great Ormond Street and specialises in neurodevelopmental disorders.
Dr Uttom Chowdhury has clinical experience with a range of child neurodevelopmental and psychiatric presentations. He is an especially kind and gentle person, as well as being an exceptionally accomplished clinician, and it is a great pleasure to have him in the Clinical Partners team.
Dr Chowdhury wrote the book' Tics and Tourette Syndrome' which has been translated into five languages. His research interests include Anorexia Nervosa, Autistic Spectrum Disorders, Obsessive Compulsive Disorder and Asperger's Syndrome.
Uttom is an Honorary Consultant Psychiatrist to the Children & Young Persons Team, Medical Foundation for Victims of Torture. He is a medical advisor to the Tourette Syndrome Association UK and is an examiner and board member for the Royal College of Psychiatrists.
Over the last 10 years Dr Chowdhury has given lectures to professional on wide of a subjects, including:
Dr Chowdhury is a Consultant in Child and Adolescent Psychiatry in Bedfordshire. He is a Visiting Professor in the Department of Applied Social Studies at the University of Bedfordshire. He teaches Neurosciences, Neurodevelopment and Child Health on several Masters level courses.
Specialisms
Autism
Aspergers syndrome
ADHD
Tics and Tourette Syndrome
Trauma
OCD
Domestic Violence
Qualifications
MBChB (Manchester),
MRCPsych (London),
PGrad Dip in CBT(Institute of Psychiatry, London)
Professional registrations
Registered with the General Medical Council
Member of the Royal College of Psychiatrists
Member of the Association for Child and Adolescent Mental Health
Therapeutic approaches
CBT
Systemic
Psychoanalytic
Psychodynamic
Interpersonal
Humanistic