Dr Balamurugan Nambi
MBBS, MRCPsych
Consultant Child & Adolescent Psychiatrist
Location:
Leicester / Nottingham
Profile: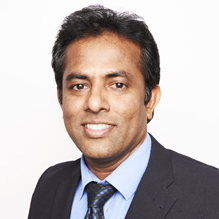 Dr Balamurugan Nambi is a highly experienced Consultant Child & Adolescent Psychiatrist currently working for 2gether NHS Foundation Trust with Children, Adolescents & Families across a wide spectrum of mental health issues. He has a Medical Degree and is a Member of the Royal College of Psychiatrists.
Dr Nambi has over 10 years' experience as a Qualified Psychiatrist working in the NHS and private sector.
Able to cover a range of issues, Dr Nambi sees children, adolescents & families with issues such as ADHD, Anxiety, Depression, School Problems, Post-Traumatic Stress Disorder (PTSD), Obsessive Compulsive Disorder (OCD) and Autism. Dr Nambi Is able to provide Cognitive Behavioural Therapy (CBT) to his patients, as well as medication options.
Dr Nambi is described as a very knowledgeable and competent clinician, and Clinical Partners are delighted to offer assessments at our Leicester and Nottingham Clinics.
Specialisms
ADHD
Anxiety & Stress
Autism
Depression
Post-Traumatic Stress Disorder
Asperger's Disorder
Bipolar Disorder
Eating Problems & Disorders
Obsessive Compulsive Disorder (OCD)
School Problems
Qualifications
Professional Registrations
Member of the Royal College of Psychiatrists
Therapeutic Approaches
Cognitive Behavioural Therapy (CBT)