Details
Dr Lalitaa Suglani
BSc, MSc
Psychologist
Location:
Birmingham / London
Profile: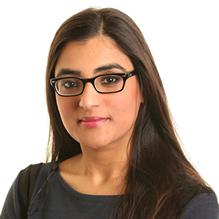 Dr Suglani is an extremely bright and hardworking Psychologist with excellent NHS and private experience. She has a BSc in Psychology & Sociology (2011) a MSc in Counselling Psychology (2012), and a Doctorate in Counselling Psychology.
Dr Suglani is a member of the British Association for Counselling & Psychotherapy (BACP), as well as the British Psychological Society (BPS) and the British Association for Behavioural and Cognitive Psychotherapies (BABCP).
She helps clients with a range of issues such as anxiety, exam stress, depression, low self-esteem, family and relationship issues, phobias, rape, bullying, anger and other emotional issues. Dr Suglani has a passion for helping people and uses a caring integrative approach to tailor therapy to individual needs..
Dr Suglani is also able to take on medico legal cases, and is experienced at completing Expert Witness reports.
We consider Dr Suglani to be an outstandingly capable individual and we're very pleased to be working with her.
Specialisms
Qualifications
BSc (in Psychology and Sociology
Doctorate in Counselling Psychology
MSc Counselling Psychology
Certificate in Counselling
Professional registrations
Member of the Health & Care Professions Council (HCPC)
Therapeutic approaches
Dr Suglani works in an Integrative way, following a Humanistic modality. Some of the other approaches that she combines with this can include Psychodynamic, Cognitive Behavioural Therapy, Inner Child