Dr Narinder Kapur
D Clin Psych, PhD, BA
Consultant Neuropsychologist
Profile: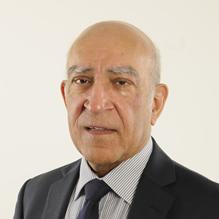 Dr Narinder Kapur is a very experienced Consultant Neuropsychologist attached to Imperial College Medical School. He has a Doctorate in Psychology and a Diploma in Clinical Psychology. He is also Visiting Professor of Neuropsychology at University College London.
Dr Kapur was Head of Neuropsychology at Southampton General Hospital for many years before becoming Head of Neuropsychology at the Clinical Neurosciences Unit at Addenbrooke's Hospital, Cambridge. He is a Fellow of the British Psychological Society, and also past-President of the British Neuropsychological Society, of which he is a founder member.
Dr Kapur has a special interest in memory disorders and the use of memory aids as compensatory strategies for memory rehabilitation. He has won awards both for his clinical work and for his publications. He has a national and international reputation for his clinical and academic work. He has made an outstanding contribution to the study of Neuropsychology and is a leading writer on the subject, having authored or edited four books in the field.
Dr Kapur is an eminent neuropsychologist and we are fortunate to have his level of expertise within the Clinical Partners team.
Specialisms
Epilepsy
Head injury
Stroke
Dementia
Qualifications
Diploma in Clinical Psychology
Doctorate in Psychology
BA (Hons) Psychology
Society Registrations
Fellow of the British Psychological Society
British Neuropsychological Society
International Neuropsychological Society
British Neuropsychiatric Association
Memory Disorders Research Society
Professional Registration
Health and Care Professions Council