Dr Maria Zioga
BA, MSc, MSc, PG Dip, DPhil(Oxon), CPsychol, AFBPsS
Child, Adolescent & Parental Psychologist
Profile: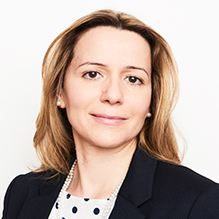 Dr Maria Zioga is a highly experienced Child & Adolescent Psychologist who also offers coaching to parents appropriately based on individual needs and family circumstances. She has a long and multifaceted experience working in the NHS, Private Sector and in Higher Education.
She has a strong scientific background and training as she holds a Bachelor's in Psychology, Master's in Developmental Psychology, Master's in Psychology of Education, a Post-Graduate Diploma in Counselling and a DPhil in Child Psychiatry from leading UK departments. She is a Chartered Member and Associate Fellow of the British Psychological Society.
In all her assessment and intervention work with children and parents, she follows evidence-based practice as her basic guiding principal, covering a range of issues such as Developmental (typical and atypical), Emotional (anxiety, depression), Behavioural, School related difficulties (social interactions, communication), issues with Puberty, and Parental work (perinatal to late adolescence). Her therapeutic methods are tailored to each individual child and family, and include various approaches and techniques e.g. Cognitive Behavioural Therapy (CBT), Psychoanalytic Therapy, Integrative Therapy, Parental Interventions.
She is passionate about producing realistic care plans which promote healthier psychological development for every child, with close attention to factors such as individual, family and school. She is also happy to work with parents and help them overcome their concerns, dilemmas and difficulties, and is able to counsel parents on hope to effectively cope as a couple and family when difficult times emerge. She is also highly committed to ensure confidential, sensitive and discreet environments for all the cases she sees.
Maria is described by her colleagues as bright, hardworking, with outstanding clinical skills and knowledge, offering an accessible and friendly approach to her patients.
Clinical Partners present Dr Maria Zioga to our London Clinic.
Specialisms
Adoption and Fostering
ADHD
Anxiety and Stress
Asperger's
Autism
Behavioural Problems
Bereavement
Bullying
Depression
Disabilities
Divorce and Separation
Domestic Violence
Early Years Issues
Eating Problems
Family Support and Therapy
Fear and Phobias
Gifted and Talented
Learning Difficulties
Obsessive Compulsive Disorder
Parents with Mental Health Issues
Post-Traumatic Stress Disorder
School Problems
School Exclusions and Expulsions
Self-Esteem
Self-Harm
Stealing and Lying
Qualifications
Bachelor's in Psychology
Master's in Developmental Psychology
Master's in Psychology of Education
Post-Graduate Diploma in Counselling
DPhil in Child Psychiatry
Professional registrations
Member of the British Psychological Society (CPsychol, ABPsS)
Therapeutic approaches
Cognitive Behavioural Therapy (CBT)
Psychoanalytic Therapy
Integrative Therapy
Parental Interventions