Evia Dolbear
BSc Hons, Dip, MBACP
Profile: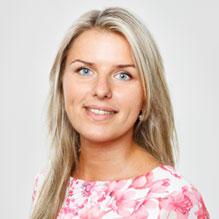 Evia Dolbear is a fully qualified and experienced Integrative Psychotherapist. She has a degree in Psychology and a Diploma in Therapeutic Counselling, and is a Member of the British Association for Counselling & Psychotherapy.
Evia has over 5 years' experience as a Psychotherapist and Counsellor, and offers a supportive, confidential approach to therapy, and has extensive experience of working with people from diverse backgrounds with a wide range of issues including relationships, low self-esteem, depression, mental health, substance misuse, anxiety, bereavement, divorce, eating disorders, feeling unfulfilled and many others.
Evia uses Cognitive Behavioural Therapy (CBT) and Humanistic/ Person Centred Therapy to bring positive change and improvement to people's lives.
Evia is known as a hardworking and caring therapist, with a supportive and sincere attitude to all her patients. She treats people with dignity and respect and maintains the highest quality in her work. We are delighted Evia has become a Partner at our Bournemouth location.
Specialisms
Domestic Abuse
Addictions
Depression
Low Self Esteem
Abortion
Anger
Bullying
Eating Disorders
Grief or Loss
Motherhood Stresses
Sexual Abuse & Trauma
Anxiety
Post-Traumatic Stress Disorder (PTSD)
Work & Career Related Issues
Weight Management
Qualifications
BSc – Psychology
Diploma – Therapeutic Counselling
Professional registrations
Member of the British Association for Counselling & Psychotherapy
Therapeutic approaches
Cognitive Behavioural Therapy (CBT)
Humanistic/ Person Centred Therapy