Consultant Family & Systemic Psychotherapist
Profile: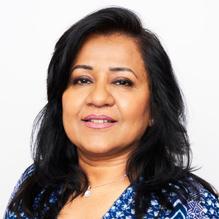 Nasima Hussain is a Consultant Family and Systemic Psychotherapist and Course director for Systemic Psychotherapy courses in the NHS. She has an MA (year1) in Psychoanalytic Studies/Infant observation and an MSc in Family and Couple Therapy and is a qualified Systemic Psychotherapy supervisor.
Nasima has over 20 years' experience in the NHS and working in private practice.
Nasima has extensive experience of direct clinical work with adults, adolescents, children and families which include assessment and treatment of problems such as, anxiety, depression and anger management in adults. Anxiety, depression, ADHD, self-esteem and behavioural/school problems in children and adolescents. She uses a range of therapeutic models primarily systemic psychotherapy and also includes Psychodynamic and CBT.
To compliment her clinical work, Nasima has extensive experience in working with diversity, and specialises in cross-cultural work with South Asian families, and is a bilingual therapist and fluent in several South Asian Languages.
Nasima is described by her colleagues as a compassionate systemic therapist, with vast clinical experience across a range of mental health presentations, age groups and cultural backgrounds, who engages both her patients and their families throughout. Clinical Partners is pleased to present Nasima as part of our London Clinic.
Specialisms
Adults
Anger
Bullying
Childhood Depression and Anxiety
Conduct Disorder
Divorce
Marriage
Anxiety
Childhood ADHD/ADD
Couples / Marriage Therapy
Depression
Domestic Violence
Family Support
Low Self-Esteem
Parenting
Relationship Issues
CAMHS
ADHD
Anger, Aggression and Violence
Anxiety and Stress
Depression
Divorce and Separation
Domestic Violence
Early Years Issues
Family Support and Therapy
Self Esteem
Behavioural Problems
Bipolar
School Problems
Self-Harm
Qualifications
MA in Psychoanalytic Studies
MSc Family & Couple Therapy
Professional Registrations
Member of the UK Council for Psychotherapy
Therapeutic approaches