Generalised anxiety disorder in children (commonly referred to as GAD) is an anxiety disorder where the child or teenager has excessive or disproportionate anxiety about many aspects of life – for instance academic performance, family relations and social concerns.
Whilst we all worry about different aspects of our lives at times, children with GAD worry a great deal more and these worries are often out of their control.
It can be very hard for parents of children and teenagers with GAD to know how to manage their child's anxiety; often the child's concerns can seem unrealistic or even irrational. However, it is important to note that for the child, their concerns are very real and can be all consuming – causing huge emotional distress and often preventing them from taking part in normal day to day activities.
Call 0203 761 7026 or request a call back to speak to one of our clinical advisors about how we can help your child or teenager.
Common symptoms of GAD in children and teenagers:

Difficulties sleeping / fatigue
Uncontrollable worry about different situations
Unrealistic fears about normal daily activities
Concern over future events or events years down the line
Perfectionism with school work
Constant 'what if' ruminations
May feel responsible for lots of things that are completely out of their control, for instance your job promotion
Need for lots of reassurance
Difficulties concentrating on a task
Physical complaints such as headaches and stomach aches

When should I seek help for my child?
Some life events will naturally cause your child more worry, for instance exam periods can be very stressful times and hormonal fluctuations can make anxiety more of an issue.
However, if your child or teenager has been showing signs of anxiety for more than a few weeks, if their mood has lowered, school work suffered and if they are not socialising or enjoying activities in the same way they did before then it is advisable to seek professional help.
Children and teenagers with Generalised Anxiety Disorder are more likely to go on to develop depression, suffer with school truancy, turn to substance abuse and self harm. It's often really hard for parents to know the best ways to parent a child who has an anxiety disorder as many worry they might make things worse. As a result, families can often be put under a lot of strain when they have a child who is struggling with a mental health condition. Seeking early support for your child and considering some parenting support for yourself can make a huge difference to everyone in the family.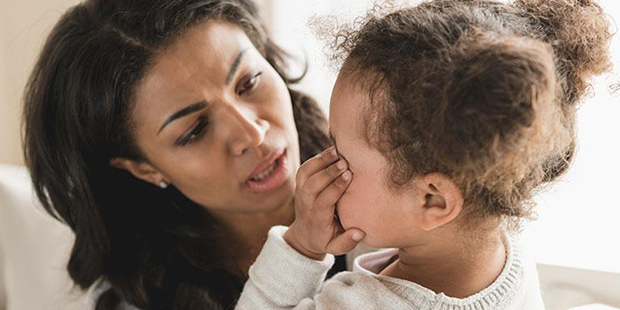 Read 'Anxiety in children – when should you seek help?'
If you are concerned your child or teenager has anxiety and aren't sure what to do, you can call one of our clinical advisors today on 0203 761 7026 for a chat. Our clinical advisors are all qualified psychotherapists or assistant psychologists and will be able to advise you.