Chhaya Pandit
Consultant Child & Adolescent Psychiatrist
Child and Adolescent
MBBS, MRCPsych, MSc Psychiatry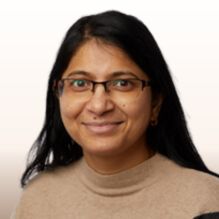 Dr Pandit is an experienced Consultant Child & Adolescent Psychiatrist who is working as a CAMHS Consultant in the NHS Trust in Leeds West Community CAMHS team.
Dr Pandit is currently involved in neurodevelopmental clinic carrying out comprehensive assessments for ASC, ADHD and other complex conditions. She is able to take a lead role in delivering high quality care and innovates in her practice to these ends. She is an able member and leader of the multidisciplinary team. She has trained in therapeutic assessment and interventions (in ASD assessment and medical hypnosis).
In addition to her clinical work, Dr Pandit also supports other colleagues through training and supervision. She is currently teaching the CAMHS assessment of self-harm for Core Trainees and GPs who are involved in the on call out of hours rota.
Dr Pandit is described by colleagues as an able, thoughtful and hardworking clinician who engages in continuing professional development and is in good standing with the Royal College of Psychiatrists. She maintains high standards in her clinical work and takes pride in working toward the best patient outcomes.
Conditions I treat
ADHD/ADD
Anxiety
Anxiety disorder - Other
Autism, Asperger's & PDD
Depression
Obsessive Compulsive Disorder
Psychosis
PTSD/Trauma
Therapeutic approaches used
Cognitive Behavioural Therapy (CBT)
Qualifications and Education
MBBS, Shivaji University, Kolhapur, M.S., India.
DPB, Diploma in Pathology and Bacteriology, College of Physician and Surgeon, University of Mumbai, India
Professional Bodies and Membership
Member of the General Medical Council
Member of the Royal College of Psychiatrists