Dilek Demir
Systemic and Family Psychotherapist
All Ages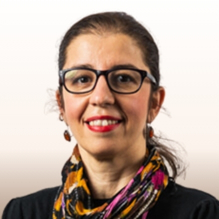 Dilek Demir is a fully accredited UKCP and AFT (Association of Family Psychotherapist) who is currently working as a Senior Systemic and Family Psychotherapist in Barnet Enfield Haringey NHS Mental Health Trust. She has experience working with young adults and adults with psychological difficulties from mild to severe and from diverse backgrounds.
Her area of speciality is providing Systemic consultation and individual, couple and family psychotherapy, who often have history of abuse, neglect and other traumatic life experiences that impact on the way they co-construct their identity, communication and relationships. She has also undertaken serious, complex and chronic psychological issues such as PTSD, personality disorder, severe depression and anxiety disorder, and dual diagnosis.
Not only has she had extensive experience working with CAMHS Tier 3 and 2 groups, she has also interacted with young children and adolescents with severe depression, anxiety, eating disorders, self-harm, OCD, PTSD and assisted their families in a framework of clinical psychotherapy and consultation.
Dilek views every client with care and provides a safe therapeutic relationship where she can begin to develop a thorough understanding of the client's needs. She can also offer consultations in both English and Turkish.
Conditions I treat
Depression
Anxiety
Self-Harm
Obsessive compulsive disorder (OCD)
PTSD
Personality Disorder
Trauma
Neglect
Abuse
Relationships
Domestic Violence
Eating Disorders
Therapeutic approaches used
Eye Movement Desensitization and Reprocessing (EMDR)
Systemic Therapy
Family Therapy
Couple Therapy
Qualifications and Education
MSc Systemic and Family Psychotherapy
MSc Business Psychology
BA Education Sciences
Professional Bodies and Membership
UK Council for Psychotherapy (UKCP)
Association for Family Therapy and Systemic Practice (AFT)