Dr Athina Zakynthinaki
Consultant Psychiatrist
Child and Adolescent
MBBS, MRCPsych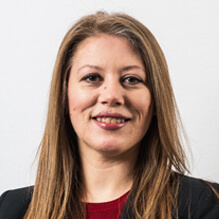 Dr Athina Zakynthinaki is a Child and Adolescent Psychiatrist with over 15 years of clinical experience, working within CAMHS multidisciplinary teams supporting and promoting mental health as well as treating young people with a variety of mental health conditions and complex presentations.
Dr Zakynthinaki graduated from Medical Faculty of Cluj Napoca in Romania before undertaking her post-graduate specialty training in Greece. She has worked in the NHS as a Consultant Child and Adolescent Psychiatrist for the last 9 years and is currently a CAMHS Consultant Psychiatrist for the Neurodevelopment team in Hounslow.
With an interest in the assessment and diagnosis of young people with Neurodevelopmental disorders (such as ASD , ADHD Tourettes etc.) as well as Anxiety and PTSD, Dr Zakynthinaki is currently undertaking an MSc in Autism Studies at the University of Kent.
She takes a holistic approach, offering supportive psychotherapeutic approaches and psycho-educational interventions and has training in Systemic Family Therapy, DBT and EMDR therapeutic interventions.
Dr Zakynthinaki is an extremely thoughtful, compassionate and client-centred clinician who is respected by patients and colleagues and will draw on all her skills to establish the best available outcome for her patients.
Conditions I treat
Anger
Family Support and Therapy
Therapeutic approaches used
Dialectical Behaviour Therapy – DBT
EMDR
Systemic Therapy
Qualifications and Education
MBBS Doctor of Medicine, Diploma in General Medicine, from the Romanian Ministry of Education and Sciences

Medical Speciality in Child and Adolescent Psychiatry from the General Directorate of Public Health, Hellenic Republic, Attica Region
Professional Bodies
On the Specialist Register Child and Adolescent Psychiatrist, General Medical Council (GMC)