Dr Mahesh Kulkarni
Consultant Child and Adolescent Psychiatrist
Child and Adolescent
CCST, MRCPsych, MBBS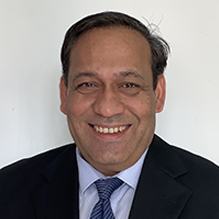 Dr Mahesh Kulkarni is a Consultant Child & Adolescent Psychiatrist, currently working for the East London NHS Foundation Trust and for the last four years Clinical Team Lead in Emotional and Behaviour Disorders Team in Luton CAMHS. He is well qualified and well experienced in equal measure, with a Medical Degree (MBBS) and extensive training Child and Adolescent Psychiatry, and has considerable forensic experience, being approved under Section 12(2) of the Mental Health Act.
Dr Kulkarni is dedicated to working with clients who have acute and chronic mental health difficulties and comorbidities, often leading to lack of engagement or treatment resistance. Dr Kulkarni's sensitive, thorough and gentle approach to the multi-dimensional nature of client's difficulties means that he is able to deal with these challenges effectively.
He specialises in ADHD, Behavioural Problems, Depression, OCD and Anxiety Disorders. Therapies include a range of holistic methods in supporting a young person to overcome their difficulties, using principles from Systemic, Psychodynamic, Cognitive Behavioural Therapy (CBT) and Group therapy. He values working collaboratively with all involved in order to achieve the best for patients and their families.
Dr Kulkarni is described by his peers as a committed and excellent Psychiatrist, kind and hard working, with extensive knowledge working with Children & Adolescents suffering from complex mental health difficulties. He works hard to collaborate with his clients to ensure the best outcome for all.
Conditions I treat
Mood Disorder – Severe/treatment-resistant
OCD
Panic attacks & panic disorder
Therapeutic approaches used
Systemic Family Therapy
Psychodynamic Psychotherapy
Group Therapy
Counselling
Qualifications and Education
CCST in Child and Adolescent Psychiatry – The Specialist Training Authority of the Royal Medical Colleges, UK
Membership of the Royal College of Psychiatrists (MRCPsych) – The Royal College of Psychiatrists
Bachelor of Medicine and Bachelor of Surgery (MBBS) – The University of Mumbai, India
Professional Bodies and Membership
Member of The Royal College of Psychiatrists
Member of The General Medical Council