Mai Le
Neurodevelopment Specialist
All Ages
BSc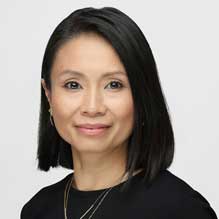 Mai Le has been working as a paediatric speech and language therapist since 2001. She has worked in a number of education and health settings, including multidisciplinary child health clinics, mental health services and special schools, including Guy's and St Thomas' NHS Foundation Trust. She works with a range of speech, language, and communication needs and specialises in autism.
Mai strives to ensure that she provides the best possible care to the children, young people and families that she works with. She is guided by national education and health standards, and up-to-date research to ensure that her practice is optimal and evidence-based. This is reflected in her own clinical practice as well as in her work developing care pathways and policies for the services that she works in.
Mai has strong clinical knowledge and highly developed communication skills. She provides robust and objective advice and consultation to families, speech and language therapists and other education and health professionals. She also offers support and training and is an integral member of a number of multidisciplinary and multi-agency teams.
Mai is a highly respected clinician, described by her peers as an asset to any team. She is hard-working, clinically sound, and provides an excellent quality of service, with a genuine, deep sense of care for her clients.
Conditions I treat
Qualifications and Education
Bachelor of Speech and Language Pathology with Honours,  

University of Canterbury, Christchurch, New Zealand
Professional Bodies & Membership
The Royal College of Speech and Language Therapists
The Health and Care Professions Council