Dr Rebecca Trikić
Counselling Psychologist
All Ages
BSc; PGDip; DCounsPsych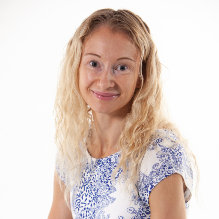 Dr Rebecca Trikić is an HCPC registered Counselling Psychologist with over 12 years of experience since graduating from Teesside University. She has worked in the NHS and in private practice, both within inpatient and community services offering individual and family work. Dr Trikić spent eight years as Lead Psychologist at Schoen Clinic Newbridge, which offers specialist eating disorder services to young people. She is currently in private practice providing psychological assessment and therapy, as well as supervision, teaching and consultation.
During Dr Trikić's career she has worked in nurseries, a hospice, adult psychotherapy, physical health and child and adolescent mental health services with adults, adolescents and children experiencing a range of emotional and physical health difficulties. Therapy is not always an easy process but through evidence-based practice, the strength of the therapeutic relationship, and her experience as an integrative psychologist, Dr Trikić helps her clients feel comfortable, valued and safe when exploring their experiences, helping them to achieve their personal goals.
Dr Trikić has specific expertise in eating disorders, trauma, and autism. She is trained in autism assessment including ADOS, and EMDR. She is interested in the overlap between anorexia and autism and is currently undertaking research in this area. Dr Trikić has also published research investigating premature birth's longitudinal psychological and educational impact.
Her peers describe Dr Trikić as a fabulous therapist with all the qualities and attributes needed for the role. She is warm, approachable and shows great dedication and commitment to her clients. She is extremely supportive and builds strong therapeutic relationships, keeping the psychological formulation at the heart of what she does.
Conditions I treat
Anorexia Nervosa
Low Self-Esteem
OCD
Binge Eating
Eating Disorders
PTSD/Trauma
Therapeutic approaches used
Eye Movement Desensitisation and Reprocessing (EMDR)
Cognitive Behavioural Therapy (CBT)
Dialectical Behaviour Therapy (DBT)
Humanistic/Person-centred
Psychotherapy and Counselling
Psychodynamic Psychotherapy
Qualifications and Education
BSc Psychology, Nottingham Trent University
Counselling Skills AQA Introduction Certificate, Basford Hall College, Nottingham
Doctorate in Counselling Psychology, Teesside University
Professional Bodies and Membership
Health Care Professions Council (HCPC)