Sarah Smith
Neurodevelopment Specialist
All Ages
BA; MMedSci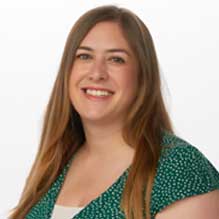 Sarah Smith is a highly experienced and accomplished neurodevelopment specialist. She graduated with a Master's degree in Human Communication Sciences from The University of Sheffield before starting her career at The Hesley Group, which provides specialist residential services for young people and adults with autism and other complex needs. She also has a wealth of experience working within the NHS including the Leeds and York Partnership NHS Foundation Trust, and currently the Leeds Community Healthcare NHS Trust.
Sarah has experience of working with clients of all ages with a wide range of communication needs. Throughout her career, she has developed a longstanding specialist interest in working with people with autism, and their families. This involves working at both a diagnostic and therapeutic level. Sarah has been working in the field of autism diagnosis for nine years and is ADI-R and ADOS trained. She enjoys working within a multidisciplinary team to carry out person-centred neurodevelopmental assessments. Within a clinic setting, Sarah is involved in parental interviews, ADOS assessments and interpretation, multidisciplinary panel discussions, and providing diagnostic feedback in a caring and sensitive manner to families. Sarah also runs training courses for parents on Communication Skills in Autism.
In addition to her Autism specialism, Sarah works with children and young people with a wide variety of complex needs, including learning disabilities, behavioural difficulties, complex medical needs, and social/emotional difficulties. She is trained in numerous SLT approaches including Intensive Interaction, PECS and the implementation of visual supports, and works across several specialist schools. Sarah also works within her NHS role to support children and young people with dysphagia (swallowing difficulties) and to support young people with language difficulties in the criminal justice system. In all areas of her work, Sarah believes in having a caring and person-centred approach, and that all SLT input should be evidence-based.
Sarah is described by her peers as hard-working and supportive of the young people and families that she works with, as well as her colleagues. She is approachable and friendly, quickly putting her patients at ease with her warm demeanour, and highly trained in providing autism assessments, as well as associated speech and language issues.
Conditions I treat
Qualifications and Education
BA Hons. Spanish and Linguistics –The University of Leeds
MMedSci Human Communication Sciences (Speech and Language Therapy) – The University of Sheffield
ADOS 2 Clinical Workshop – Pearson Clinical Assessment
ADI-R Training Course – Andrew Sims Centre
Professional Bodies and Membership
The Health and Care Professions Council (HCPC)