Mr Simon Shattock
Systemic Family & Couple Psychotherapist
Adult
MA, BA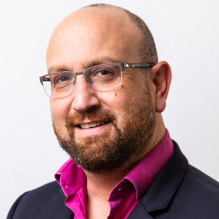 Simon Shattock is a highly experienced Family Therapist. He has a BA and Diploma in Social Work from Middlesex University, an MA in Systemic Psychotherapy from the Tavistock Centre in London, a Postgraduate Diploma in CYIAPT training for children and adolescents, and an Advanced Diploma in Systemic Supervision from the Institute of Family Therapy. Simon is also a Member of the UK Council for Psychotherapy (UKCP) and Association for Family Therapy and Systemic Practice in the UK (AFT) and the Health and Care Professions Council HCPC.
Simon has over 15 years experience working in the NHS child and family services and more recently has become a Senior Lecturer at the Institute of Family Therapy with an interest in organisational change and service development. Simon's current clinical work is as a Lead Family and Systemic Therapist at an Adolescent Unit, providing systemic interventions for adolescents and their families, as well as supervising colleagues working with families. He has worked across a variety of settings involving Tier 3 and Tier 4 child community and inpatient services. He has experience assessing the needs of young people, co-ordinating their care within services and offering bespoke Family Therapy to the client and their family.
He has worked with different presentations including many that do not neatly fit in to any particular diagnosis or fit in to multiple diagnosis criteria. Simon is a very calm and approachable therapist, confident in working with complex family and relationship dynamics and aims to find some clarity within these. He has particular experience in working with complex cases involving domestic violence, sexual abuse, OCD, adolescents who present with severe self-harm and suicidal behaviours and psychosis.
Simon Shattock is an experienced, thoughtful, kind and professional clinician who is able to conceptualise people's difficulties in a variety of contexts seeking the best outcomes for his patients.
Conditions I treat
Abuse
ADHD
Anger
Anxiety & Stress
Autism
Domestic Violence
Family Support and Therapy
PTSD
Psychosis
Fear & Phobias
OCD
Self-Harm
Qualifications and Education
BA and Diploma in Social Work from Middlesex University

MA in Systemic Psychotherapy from the Tavistock Centre in London

Postgraduate Diploma in CYIAPT training for children and adolescents, with a specialism in CBT for children and young people from University College London & Kings College London

Advanced Diploma in Systemic Supervision from the Institute of Family Therapy
Professional Bodies
Member of the UK Council for Psychotherapy (UKCP)

Association for Family Therapy and Systemic Practice in the UK (AFT)

Health and Care Professions Council (HCPC)