Dr Abbas Lohawala
MBBS, MRCPsych, HG Dip, PG Dip(Neuropsychiatry)
Profile: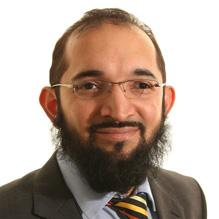 Dr Abbas Lohawala is a Consultant Neuropsychiatrist and General Adult Psychiatrist, with a Post Graduate Diploma in Neuropsychiatry and a Human Given Psychotherapy with distinction. He is currently a Consultant Psychiatrist for a mental health rehabilitation facility in the independent sector and a Locum Consultant Psychiatrist at the Rosa Burden Centre for Neuropsychiatry at Southmead Hospital, Bristol.
As a Neuropsychiatrist, Dr Lohawala has extensive experience of assessing and treating a wide spectrum of disorders including brain injuries, epilepsy, sleep disorders, dementias, and Huntington's Disease, Tourette's syndrome, ADHD and memory problems, amongst others. As a general adult psychiatrist he is also qualified to, and experienced in, treating the full range of adult mental health problems
He is also expert in the assessment and treatment of trauma, and trained in EMDR (eye movement desensitisation reprocessing) – the NICE recommended treatment for trauma.
Dr Lohawala is also an experienced medico-legal report writer and expert witness preparing reports for immigration, family, criminal, capacity and personal injury cases. He is Section 12 approved for assessments under the Mental Health Act. He has attended magistrates and crown courts as an Expert witness
Dr Lohawala was really kind and caring man who listened to our concerns and helped us through a difficult time.
Specialisms
Range of General Adult Psychiatric issues including:
Qualifications
Member of the Royal College of Psychiatrists
Certificate of Completion of training and on specialist register of GMC
Human Givens Psychotherapy Diploma
Post Graduate Diploma in Clinical Neuropsychiatry, University of Birmingham, UK
Certificate in EMDR – Eye Movement Desensitisation Remedy
Section 12 Approved for assessments under the Mental Health Act
Professional registrations
Therapeutic approaches
Evidence based general adult psychiatry and neuropsychiatry.