Dr Muhammad Gul
MBBS, MRCPsych, MSc, MMEd
Consultant Child & Adolescent Psychiatrist
Profile: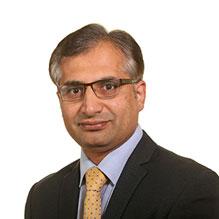 Dr Muhammad Gul is a Consultant Child & Adolescent Psychiatrist currently working for South Staffordshire & Shropshire Healthcare NHS Foundation Trust since 2012. He is also an Associate Medical Director and Honorary Senior Clinical Lecturer at Keele University. Dr Gul is a Member of the Royal College of Psychiatrists. He completed his General Psychiatry Training from St-Mary's General Psychiatry Training Scheme London. He then went for higher training in Child & Adolescent Psychiatry in the same training scheme, linked with Imperial College London, through an Academic Unit of Child & Adolescent Psychiatry
Dr Gul is ADI-R trained (Autism Diagnostic Interview-Revised) by Cambridge University, and able to complete a clinical diagnostic instrument for assessing autism in children and adults. He also has extended experience of assessment & management of young people with ADHD, ASD and other Pervasive Development Disorder.
Dr Gul also speaks other languages which include English, Urdu, Hindi, and Pushto.
Dr Gul was intuitive and kind, insightful and professional. We couldn't have asked for more.
Specialisms
Psychotic Illness
ADHD
ASD
Pervasive Development Disorder
Depression
Anxiety Disorder
Phobias
Bi-Polar Disorder
Post Traumatic Stress Disorder (PTSD)
OCD
Medico Legal expertise
Qualifications
MBBS - Bachelor of Medicine and Bachelor of Surgery
MRCPsych - Member of the Royal College of Psychiatrists
Masters – Research in Psychiatry (UCL)
Masters in Medical Education
ADI-R – (Autism Diagnostic Interview-Revised) Cambridge University
Professional registrations
GMC – General Medical Council
MRCPsych – Member of the Royal College of Psychiatrists
Therapeutic approaches
Evidence based Psychiatry