Dr Geeta Krishnan
MBBS, MRCPsych, DPM
Consultant Child & Adolescent Psychiatrist
Profile: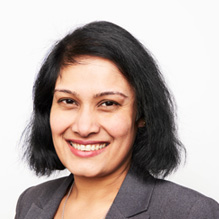 Dr Geeta Krishnan is a highly competent Consultant Child & Adolescent Psychiatrist who works for North West Boroughs Healthcare NHS Foundation Trust, previously Lead Consultant for her Borough in Pennine Care NHS Foundation Trust. Dr Krishnan has a medical degree, and is a Member of the Royal College of Psychiatrists.
Previous to this, Dr Krishnan has worked in a variety of NHS settings over the last 10 years, been the Named Doctor for Safeguarding in her local area, and contributes to a range of Trust care pathways and improvement of services.
Dr Krishnan is confident in the assessment and management of a wide range of emotional, psychological and behavioural difficulties, as well as mental illness such as Depression, Psychosis and Eating Disorders. She also has special interest in neurodevelopmental disorders, such as ADHD, Autistic Spectrum Conditions & Learning Disabilities.
Outside of her clinical work, Dr Krishnan has focused on improving the patient services of neurodevelopmental disorders in her area, reviewing & developing Trust ADHD pathways for care, contributing to the development of the Community Eating Disorders (CEDS), offering supervision and consultation to ADHD nurses and other professionals.
Dr Krishnan offers assessment and treatment in a warm and empathetic manner, dedicated to the care of her patients. She is an asset to our Child & Adolescent (CAMHS) team in the North West, and Clinical Partners are happy to present her profile and experience to our clients.
Specialisms
ADHD
Autistic Spectrum Disorder
Learning Disabilities
Depression
Eating Disorders
Psychosis
Anxiety
Post Traumatic Stress Disorder (PTSD)
Behavioural Problems
OCD
Self Harm
Qualifications
MBBS
DPM – Postgraduate Diploma in Psychological Medicine
Professional registrations
MRCPsych – Member of the Royal College of Psychiatrists
Therapeutic approaches
Evidence Based Child & Adolescent Therapies
Cognitive Behaviour Therapy (CBT)
Family Therapy
Psychodynamic Psychotherapy