Dr Bhaskar Punukollu
MBBS, Dip Mgt, MRCPsych
Profile: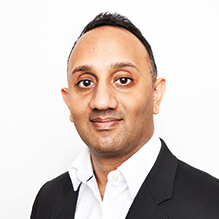 Dr Bhaskar Punukollu is a highly experienced Consultant Psychiatrist currently working for Camden and Islington NHS Foundation Trust with Adults suffering from addiction and mental health issues.
Dr Punukollu has a Medical Degree, a Diploma in Management and is a Member of the Royal College of Psychiatrists.
Dr Punukollu has worked as a Consultant Psychiatrist in the NHS and private sector since 2009.
Specialisms include treating the full range of Adult psychiatric disorders including Bipolar Affective Disorder, Schizophrenia, Depression/ Anxiety Disorders as well as PTSD and Stress. He runs an ADHD clinic in the NHS and therefore has expertise in this area, and is able to see patients suffering with alcohol and drug misuse and behavioural addictions (e.g. gambling/ sex).
With a highly impressive profile, Dr Punukollu is currently Lead Consultant for the Substance Misuse Services, and a Training Programme Director overseeing education and training of junior psychiatrists in North Central London. He also lectures UCL medical students on a regular basis alongside his busy clinical & educational work.
Dr Punukollu has trained in Psychodynamic Therapy and Cognitive Behavioural Therapy (CBT) and utilises aspects of these in his clinical sessions with patients.
It certainly has seemed to help so far with my anxiety. I felt at ease and relaxed during the appointment and look forward to the follow up discussions.
Specialisms
Adult ADHD
Bipolar Disorder
Depression/ Anxiety Disorders including OCD/ BDD
Complex PTSD (Post-Traumatic Stress Disorder)
Alcoholism & Drug Addiction
Behavioural Addictions
Qualifications & Experiences
Medical Degree - MBBS
Diploma for Graduates in Management - DipMgt
Membership of the Royal College of Psychiatrists – MRCPsych
Professional Registrations
Medical Protection Society
General Medical Council
Society for the Study of Addiction (SSA)
Therapeutic Approaches
Cognitive Behavioural Therapy (CBT)
Psychodynamic therapy
Location