Dr Francesca Battisti
Medical Doctor, Postgraduate Training in General Adult Psychiatry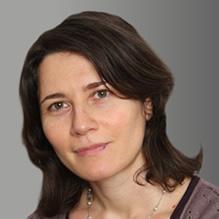 Profile:
Dr. Francesca Battisti is a well-regarded Consultant Psychiatrist with over 10 years' experience working in Psychiatry. Her area of specialism is in Eating Disorders and Perinatal Psychiatry.
Dr Battisti is a Specialist Associate member of the Royal College of Psychiatry and currently works as an Eating Disorder Consultant at Barnet, Enfield and Haringey NHS Trust in London.
She has worked on research projects focused on psychosomatic, attachment and mood disorders and has extensive training in psychotherapy. Her approach to treatment is to develop a level of trust within a relaxing, professional and warm environment that offers her patients the best chance to overcome their difficulties and ensuring the treatment is successful.
She is fluent in both English and Italian, and is able to offer consultations in either language.
Specialisms
Dr Battisti specialises in treating eating disorders and perinatal psychiatry.
Therapeutic Approaches
and Mentalization Based Treatment (MBT)
Qualifications & Experience
Before working in England Dr. Battisti obtained her medical degree at the University of Rome in 2002, and completed her postgraduate training in psychiatry, MRCPsych equivalent, in 2006. Dr Battisti worked in a number of hospitals in Italy including the Eating Disorders Unit at the Institute of Psychiatry and in a Residential Unit in Rome. In 2008 she moved to the UK and has worked within the NHS at a number of in and outpatient Eating Disorder Services.
In addition to her clinical work she has undertaken clinical research and has published papers in International peer-reviewed journals.
Location