Dr Muffazal Rawala
MBBS, MSc, MRCPsych
Consultant Psychiatrist
Location:
London, Milton Keynes
Profile: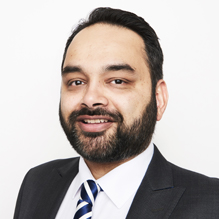 Dr Muffazal Rawala is an experienced NHS Consultant Psychiatrist, currently working for East London NHS Foundation Trust. He has a Medical Degree, a Masters in Transcultural Mental Health, has a postgraduate certificate in Psychopharmacology and is a Member of the Royal College of Psychiatrists.
Dr Rawala has over 7 years' experience as a Psychiatrist, working for both the NHS and private sector, as well as being an executive member of the Liaison Psychiatry Faculty at the Royal College of Psychiatrists, and is the Chair of the Medical Staff Committee. He also works as a Health Assessor and Medical supervisor for the General Medical Council and is a recipient of Quality Improvement and NHS Clinical Excellence Awards.
Dr Rawala is able to offer assessment, treatment and therapy across a wide range of mental health issues. His area of expertise covers mood disorders, depression, bipolar, cyclothymia, anxiety, OCD, work related stress, mental health in university students, maternal/postnatal mental health and depression, pre-conception counselling and parental attachment issues.
Dr Rawala is also an experienced Medico Legal professional, with training from Bond Solon and the Royal College of Psychiatry. He is proficient in the following areas; Capacity to instruct, culturally sensitive assessments, treatment recommendations, capacity assessments, cognitive assessments and further areas. He covers the following mental health issues; abuse, behavioural difficulties, domestic violence, fabricated illness, PTSD, puerperal psychosis, depression, early onset psychosis, factitious illness disorder, motivation to change, OCD and post-natal depression.
Dr Rawala is described by his peers as a hardworking and capable Consultant Psychiatrist who delivers high quality care to patients and demonstrates excellent leadership skills. Clinical Partners are pleased to present Dr Rawala as part of our London Clinic.
Specialisms
Medico Legal
Anger
Bipolar Disorder
Depression
Anxiety
Cyclothymia
Gay Lifestyle Issues
Grief or Loss
Phobias & Fears
Post-Natal Depression
Psychotic Depression
Stress
Suicidal Ideation
Trauma
Bereavement
Borderline Personality Disorder
Low Self Esteem
Mid Life Crisis
OCD
Panic
Self-Harm
Sexual Issues
Social Isolation & Loneliness
Work & Career Related Issues
Qualifications
MBBS
MSc – Transcultural Mental Health, University of London.
Cert. – Psychopharmacology.
Professional Registrations
Member of the Royal College of Psychiatrists
Therapeutic approaches
Evidence based adult psychiatry.