Nuala Watts
Psychodynamic Psychotherapist
Adult
BA (Hons), DIP Psychodynamic Psychotherapy, RGN, RMN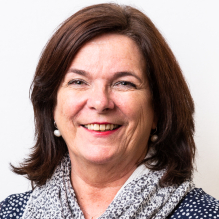 Nuala Watts has over 30 years of experience in the area of psychotherapy. She has extensive experience in treating adult mental health issues with particular expertise in depression, anxiety, stress and eating disorders and relationship issues.
She has a gentle, yet strong approach to her work and is sensitively responsive to the needs of the patient. Nuala has an extraordinary track record of helping clients and has many clients who choose to see her for long-term therapy.
I called Clinical Partners when my anxiety levels were getting out of my control. I was referred to Nuala Watts who was totally suited and whom I felt instantly at ease with. Nuala was highly professional but with a very comforting way about her which was just what I needed to be able to express myself... She suggested some practical ways of focussing on my wellbeing which has genuinely made a difference. I can only thank Nuala for being there and helping me 'back on track'. A fantastic help to me at a critical time.
I had very good sessions with Nuala that were planned well and really useful. I felt like she really understood what support I needed and tailored the session to suit me.
Nuala has developed expertise and knowledge of working with younger and middle-aged adults who are experiencing adjustment issues in relationships and families. Warm, approachable and highly experienced, Nuala is a valuable member to our London clinic team.
Conditions I treat
Bereavement
Confidence Issues
Eating Disorders
Low Self-esteem
Panic Attacks
Parenting and Family Issues
Relationship Problems
Stress
Work and Life Balance
Therapeutic approaches used
CBT - Cognitive Behavioural Therapy
Integrative Psychotherapy
Psychoanalytic
Psychodynamic
Qualifications and Education
Registered Psychiatric Nurse (RMN)
Registered General Nurse (RGN) – Whips Cross Hospital
Diploma in Psychodynamic Psychotherapy – Institute of Psychotherapy and Counselling (WPF)
BA (Hons) in Philosophy and Humanities – Birbeck University
Professional Bodies and Membership
British Association for Counselling & Psychotherapy (BACP)
Member of Association of Independent Psychotherapists