Dr Beena Parmar
BSc (Hons), ClinPsyD, CPsychol
Senior Clinical Psychologist
Profile: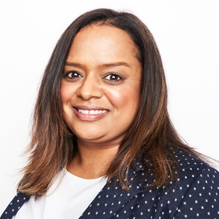 Dr Beena Parmar is a highly experienced HCPC registered Clinical Psychologist who is a Chartered Member of the British Psychological Society. Dr Parmar works with both children and adults with complex mental health difficulties, and has particular expertise in working with patients who have been diagnosed with Obsessive Compulsive Disorder, and early complex trauma.
Dr Parmar offers assessment and therapy for a range of clinical presentations including depression, Post Traumatic Stress Disorder (PTSD), anxiety, phobias, eating disorders, OCD, self-harm and personality difficulties. She provides a personalised approach to treatment, using Compassion Focused Therapy (CFT), Transactional Analysis and attachment theory.
Prior to this Dr Parmar has worked for the NHS in a busy secondary mental health service working with clients from diverse backgrounds. She has a particular strength in the development and implementation of group programs that are evidence based. In addition, Dr Parmar has experience of staff training & consultation to support development & growth within an organisation.
Dr Parmar is well known as a respectful & thoughtful Clinical Psychologist, with great personal integrity and a conscientious approach to her patients. We're delighted to be working with her and to refer our patients to her.
Specialisms
OCD
Complex Trauma
Post Traumatic Stress Disorder (PTSD)
Depression
Anxiety
Phobias
Eating Disorders
Self Harm
Personality Difficulties
Qualifications
BSc (Hons) – Psychology (Sheffield University)
ClinPsyD – Doctorate in Clinical Psychology
CPsychol – Chartered Member of the British Psychological Society
Professional registrations
British Psychological Society
Health and Care Professions Council (HCPC)
Therapeutic approaches
Compassion Focused Therapy (CFT)
Transactional Analysis
Attachment Theory